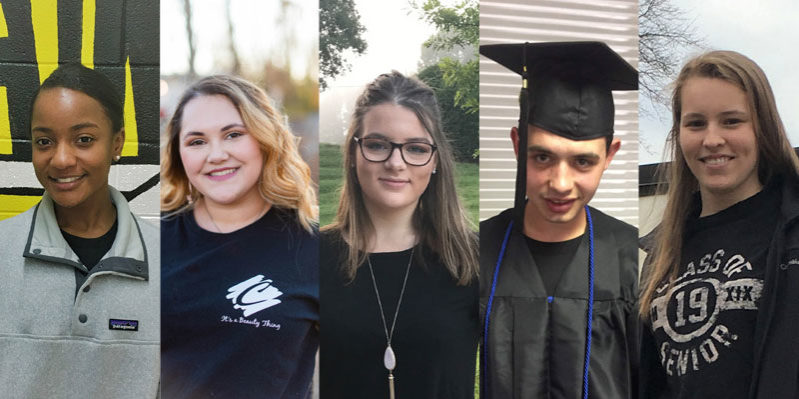 Alleenih Carter-Kee
KMHS senior
"CCP classes have allowed me to get college credit for free and I won't be going the full four years like others will be.  It has also prepared me for the rigors of actual college while still being in a high school setting."
Aleenih plans to pursue pre-Med studies and has been accepted to UNC and NC State.
Alyssa Mackaman
"My name is Alyssa Mackaman and I am in my second year of the CCP Cosmetology program. I just recently graduated from Crest High School in January. I chose to do cosmetology because I have always had a passion for doing hair. Doing the class while also being in high school has been very beneficial to me because school is not my favorite thing, so I was able to leave after second period and go to CCC and do something that I love. At the end of the summer semester I will be finished and able to go work in a salon. I love that I have had this opportunity and I have met so many great people and made so many friends through this program."
Ashley Roderick
"The CCP Program has challenged me to work harder than the traditional student and has given me a jump start into my future. Because of the CCP Program I am able to graduate high school with my associate degree and be able to obtain my bachelor's faster than my peers."
– Ashley Roderick, Crest Senior
Bradley Browner
SHS senior
"At first I didn't want to take CCP classes because I did not like the fact that it was an online class and I wouldn't have a teacher in front of me. But as I started the class, it was actually a lot easier than I expected.  Not having an actual teacher was not an obstacle and I enjoyed it."
Bradley plans to attend NC State to study Animal Medicine and wants to become a veterinarian. 
Hunter Riddle
"I am taking A/C, Heating, and Refrigeration courses at CCC. In May, I will earn my certificate and will continue working on my diploma, since I am only a junior. Taking CCP classes helps me save money working on my own A/C system instead of having to pay someone. It also will help me get started in my career right after high school."
– Hunter Riddle, Burns High School
Sierra Cox
SHS senior
"I like that I'm able to get ahead of my college career while I'm still in high school. I have been able to explore different careers while taking CCP classes. They have also helped me get closer to achieving my goal of going to college."
Sierra will graduate with a certificate in both School-Age Education and Criminal Justice Technology.  She plans to attend CCC in the fall.