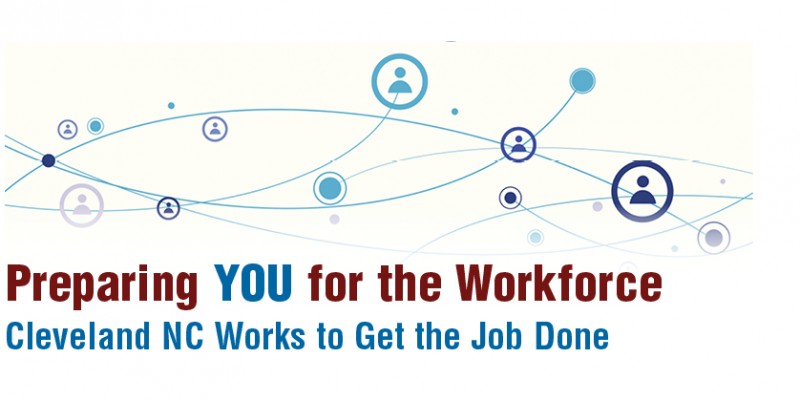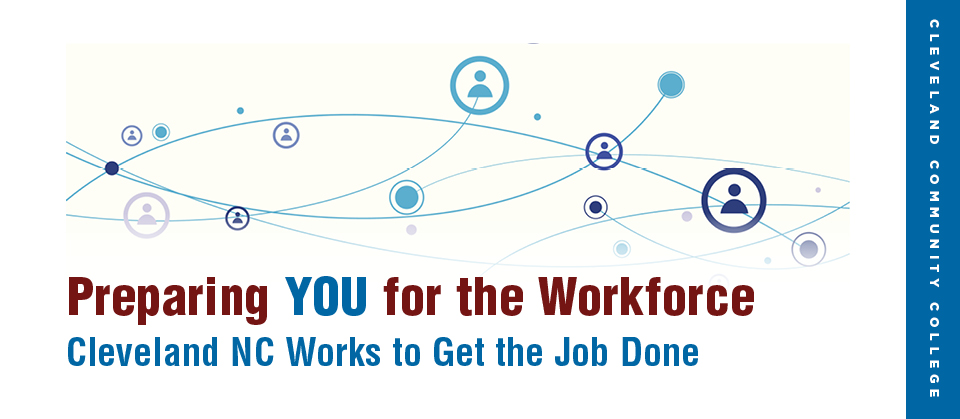 Cleveland NC Works supports the mission of Cleveland Community College in its commitment to provide quality services to support the attainment of personal and professional goals of the students and the community. The purpose of Cleveland NC Works is to strengthen economic development by linking business and industry with qualified job seekers.
Walk through the doors at Cleveland NC Works and here is what you will find:
Highly qualified and compassionate staff of career professionals that want to help you address your immediate unemployment and under-employment needs.
Human Resources Development program that provides skill assessment services, employability skills training, and career development for individuals in transition and the emerging workforce. Once your individual needs have been assessed these classes will get you that much closer to your employment goals!
Cleveland County Work-Ready Certificate is a Cleveland County employer endorsed program providing workers in transition employability skills training to compete for positions with existing companies and new companies locating in Cleveland County.  This 16-day program will change forever how you apply and search for positions.  These classes will get you ready to achieve your employment goals!- Success: Land Your Next Job (How to Excel in an Interview)
– Fundamental Company Assessments (Strategies on How to Pass a Company Test)
– Utilizing Information Technology for Job Search (Resume Preparation/NC Works)
– Employee Focused Competency (Training Employers Require of New Employees)
Career Readiness Certificate (CRC) is a nationally-recognized credential which shows prospective employers you have the basic skills they require to get the job done! The first step in earning your Gold, Silver, or Bronze Career Readiness Certificate is to take the pre-assessment. If you receive a satisfactory score, you immediately take the CRC. If your scores could use some improvement, help is available through the Career Readiness Lab.
NC Works Online Database will allow you to post your resume for employers to view.
Workforce Investment Act (WIA) Case Managers are ready to assist you with developing an individual employment plan and in applying for financial assistance to help pay for training.
An established partnership between NC Works, Cleveland Community College, Isothermal Planning and Development Commission, the Division of Workforce Solutions and local Business/Industry to provide well-educated, trained and well prepared candidates for hire. Prepared Candidates … Land Jobs!
Cleveland NC Works is located in the LeGrand Center on the campus of Cleveland Community College. Stop by or give us a call today at 704-669-4729. We can't wait to hear from you!
Cleveland NC Works WORKS
"I just wanted to let you know I GOT THE JOB!!! Can you tell that I'm excited? Thank YOU for all you have done in helping me to get employed again." – Georgia
---
"I have a bit of good news. I got a job at a local industry. It was a direct hire just like you guys have been talking about – non-posted internal jobs. I start full time with full benefits. I'll finally have insurance and full benefits with 6 days of vacation this year and 10 next year. The Maintenance Supervisor said at the end of the interview, 'You sound like you really enjoy what you do.' I said I do and I'm glad it shows. They made me an offer just a week after the interview; it was great. I got a big pay raise and a chance to work for a growing strong company." – Ray