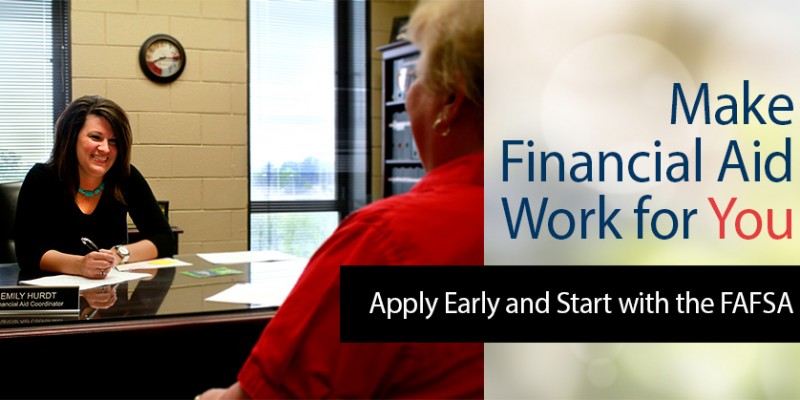 Apply Early and Start with the FAFSA
Did you know that more than 70 percent of Cleveland Community College students receive some form of financial aid?
That's right, almost three-fourths of our students found out they qualified to receive financial help after completing the Free Application for Federal Student Aid, or FAFSA. "So many students do not apply for financial aid because they don't think they qualify," says Emily Hurdt, financial aid coordinator at CCC. "Once they apply, they are surprised at how much they are eligible to receive."
Hurdt says filling out the FAFSA information is the only way you can determine if you qualify. "If a student walks into our office today and asks about receiving financial aid, the first thing we suggest is that they fill out the FAFSA," she explains. "We can immediately help them begin that process as long as they have all the information needed to get started."
It's As Easy As. . .
1.    Get a PIN (Personal Identification Number) at pin.ed.gov. A pin is your electronic signature and is required to complete your online FAFSA.
2.    Complete the FAFSA at fafsa.gov. Be sure to list CCC's School Code: 008082.
3.    Return your paperwork. The CCC Financial Aid office will send you a notification email to complete your financial aid packet once your file is received.
Need help completing the FAFSA? Contact us at
704-669-4028 or [email protected].
Types of Financial Aid
CCC Scholarships
Childcare Funds
Educational Assistance for Veterans and Certain Dependents of Veterans
Federal Pell Grants
Federal Workforce Investment Act Grants
Federal Work-Study Program
Local Scholarships
$11.9 million awarded during 2014 – 2015.
Work-study opportunities are available.
Free financial aid workshops are offered each month.