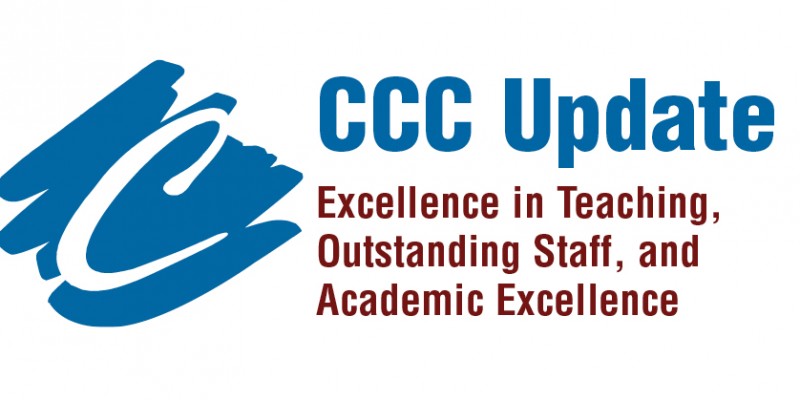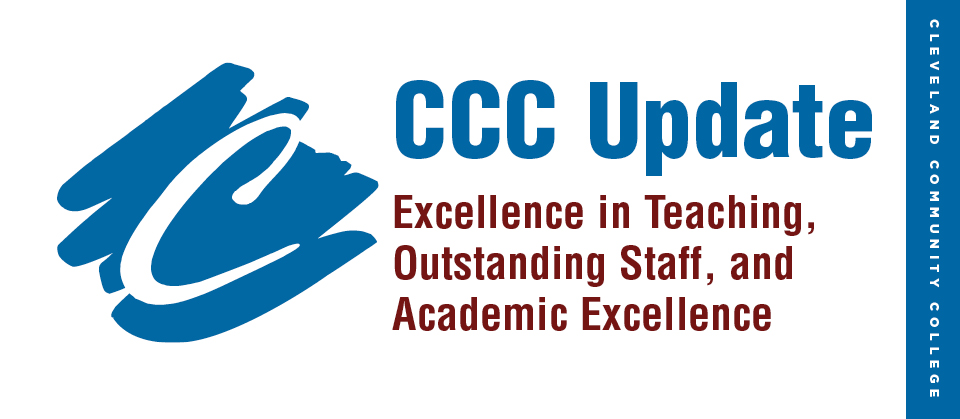 Cleveland Community College Updates
2014 Excellence in Teaching, Outstanding Staff, and
Academic Excellence Award Winners
---
Excellence in Teaching Award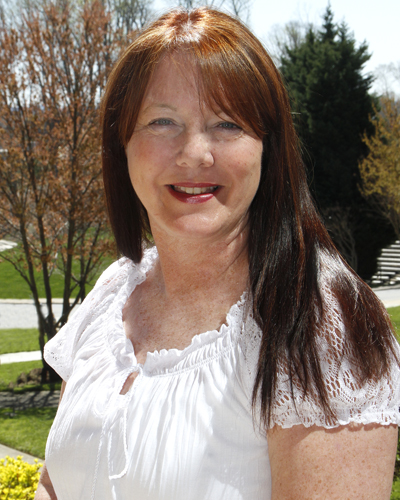 Dr. Starr Morrow Camper, Department Chair of Social Sciences at Cleveland Community College, is the 2014 Excellence in Teaching Award recipient. Dr. Camper has been teaching history and political science at the College for 22 years.
Camper earned her doctorate in Women's history with a minor in Russian history and political science from the University of South Carolina at Columbia. She earned her master's and bachelor's degrees from the University of North Carolina at Charlotte in history and also attended Isothermal Community College where she received an Associate in Arts degree. In 2002, Dr. Camper received the Outstanding Alumni Award from Isothermal Community College. She was also the Excellence in Teaching Award recipient at Cleveland Community College in 1996.
Dr. Camper says her greatest honor in winning the Excellence in Teaching Award is that a student felt she was deserving enough to take time to nominate her. "Teaching is one of my greatest passions, and to be recognized is amazing. I am blessed to work with a group of outstanding colleagues, each of whom is an excellent instructor. CCC gave me a wonderful opportunity years ago and I will be forever grateful," she says.
When she isn't in the classroom at CCC, Dr. Camper says she enjoys hanging out with her husband, Wes, their three rescue animals, and also reading anything written by Clive Cussler. She says she also loves being actively involved with her sons, Scott and AJ, at their school-Thomas Jefferson Classical Academy. Regardless of her busy teaching schedule and family, Dr. Camper still finds time to serve as Sunday School Director at Bethany Baptist Church and also volunteers at Grace of God Rescue Mission, Path Shelter, and Noah's home. She and her family live in Forest City, North Carolina.
---
Outstanding Staff Member Award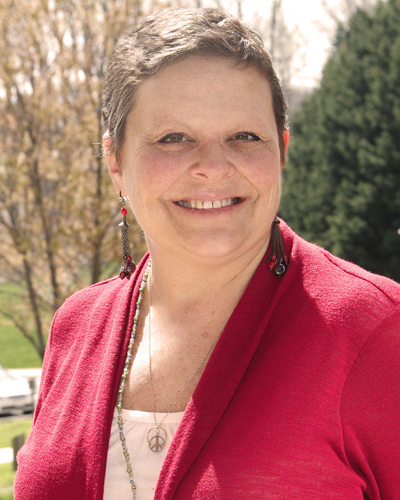 Barbara McKibbin, Dean of Learning Resources, is the 2014 Outstanding Staff Member Award recipient. McKibbin has served at the College for 23 years and began her career as the Director of Library Services.
Since that time, she has also served as Library Director. McKibbin earned a master's degree in library science from the University of North Carolina at Chapel Hill and a Bachelor of Arts degree in English from Gardner-Webb University.
McKibbin is currently serving as president of the North Carolina Community College Learning Resources Association and says, "I was honored to be considered for this award as I see the hard work and dedication of so many of the employees of the College who are also deserving of the recognition. I love working at Cleveland, and particularly in the Rose Library because I constantly see how our efforts make a difference for students. It is very gratifying to be recognized for what I do, but what we have accomplished in the Library and Learning Resources Department is a result of a team effort," she adds.
McKibbin and her husband, Barry, reside in the small community of Delight in upper Cleveland County.
---
2014 Academic Excellence Award Winner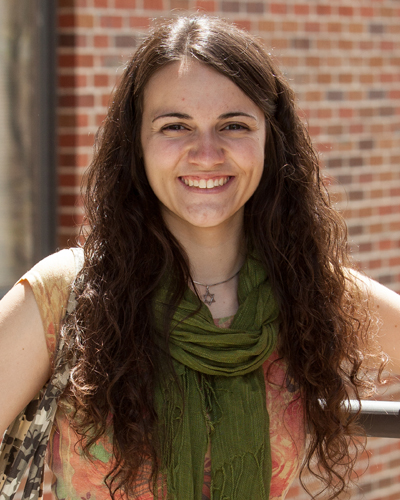 Anna Marie Vagnozzi has been named the 2014 Academic Excellence Award winner at Cleveland Community College. Vagnozzi is pursuing both an Associate in Science and an Associate in Arts degree and holds a perfect 4.0 grade point average.
Vagnozzi says her background as a homeschool student was one of the reasons she chose CCC. "At the age of 16, I didn't really feel ready to make the jump to living away at a university. CCC gave me the option of a smooth transition from home education to the classroom environment," she says. "Plus, the low-cost tuition, job opportunities, and financial assistance also gave me the ability to begin saving for when I transfer to a four-year institution."
"Each year academic award winners are chosen for not only their work inside the classroom, but their involvement on campus is just as important. Anna Marie was a perfect fit by serving as a work-study and tutor in the Student Success Center," says Vice President of Student Services Dr. Andy Gardner. "She is also president of Phi Theta Kappa honor society and serves as a senator for the Student Government Association," he adds.
Off campus, Vagnozzi is actively involved in the North Carolina 4-H Youth Development Program and says her involvement in 4-H has built character, communication, team work skills, and leadership abilities. "I know one day my love of learning and teaching will allow me to touch others' lives and I will have my homeschooling, 4-H, and CCC to thank for that," she says.
Vagnozzi is the daughter of Sam and Cheryl Vagnozzi of Kings Mountain and she has two siblings, Anthony and Hannah.
The North Carolina Community College's Academic Award winners are chosen from each of the 58 NC Community Colleges. The students are selected for their academic accomplishments and leadership ability. They also excel in the classroom and are dedicated to making a difference on their campuses and in their communities.
---
Past Recipients of the Excellence in Teaching Award
2013 Sherry Hamrick
2012 Russ Hamilton
2011 Dr. Sandol Johnson
2010 Sheri Rogers
2009 Claman Parker
2008 Bruce Mack
2007 Dr. Barbara Taylor
2006 Michael Sisk
2005 Dori Gantt
2004 Kay Chitty
2003 Ray Fisher
2002 Becky Sain
2001 Bruner Remy
2000 Jana Bridges
1999 Steve Putnam
1998 Phil Reid
1997 Dr. B.J. Zamora
1996 Dr. Starr Camper
1995 Rosaline Hunt
1994 Jean Francis
1993 Linda Ross
1992 Dr. Barbara Taylor
1991 James Fite
---
Past Recipients of Outstanding Staff Member Award
2013 Athena Smith
2012 Jimmy Hensley
2011 Severne Budd
2010 Emily Sisk
2009 LeeAnn Lawson
2008 Susan Martin
2007 Andy Gardner
2006 Shaunda Leonhardt
2005 Lee Bryant
2004 Laura Bowen
2003 Chris Nanney