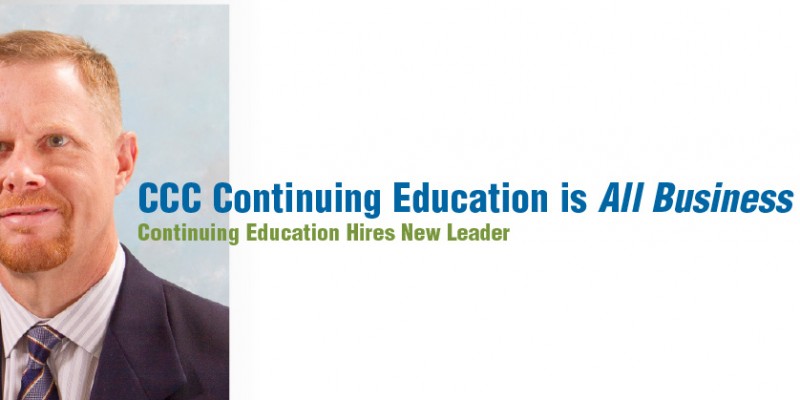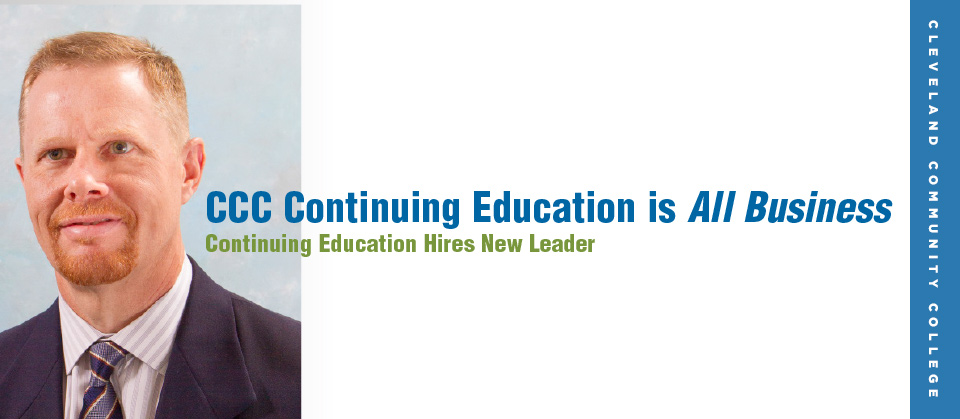 There is a new leader at the helm of CCC's Continuing Education who brings a wealth of experience in specialized training for Cleveland County. Ken Mooney, former Manager of Existing Industry Relations for the Cleveland County Economic Development Partnership and the Chamber, assumed the role of vice president of Continuing Education in April.
Mooney has been an integral part of economic development in Cleveland County and says, "I'm excited about looking for new and creative ways to serve our local industry, businesses and citizens with training and educational opportunities.  I see us becoming even more creative in how we leverage technology to deliver quality training while expanding the types of training offered at Cleveland Community College."
As vice president of Continuing Education, Mooney will be responsible for specialized training for area businesses and industry and says he sees Cleveland Community College as a vital resource to help people gain the skills they need to get a good job, stay current on skills, gain a promotion, start a new career, or even start a new business. "Through specific and customized industry training, Continuing Education can help local businesses be successful, grow, and create new jobs while at the same time we can help the local workforce acquire the skills that industry and businesses need.  I believe Cleveland Community College has a critical role to play in supporting economic development and making Cleveland County a competitive place for businesses to grow and prosper," he adds.
Mooney earned a Master's degree in Business Administration from Gardner-Webb University and Bachelor of Science degree in Electrical Engineering from UNC-Charlotte and an Associate in Applied Science degree in Electronics Technology from Surry Community College. He is also extremely active in the community and serves as president of the Foothills Farmers' Market and Vice Chairman of Charlotte Regional Partnership Existing Industry Committee. He also serves on the Cleveland Vocational Industries board, and is a member of Cleveland County Communicators Toastmasters Club, and the Chamber's Business-Education Alliance.
In addition, Mooney enjoys CrossFit, running, completing Spartan races, backpacking, camping, and making hand-crafted furniture. He and his wife, Lauren, also enjoy supporting the Foothills Farmers' Market by supporting the local real-food movement and peddling natural skincare products. They have two sons, Brian and Ben, and reside in Shelby.
The Small Business Center at Cleveland Community College has been helping budding entrepreneurs turn their ideas into dreams for a long time. SBC Director, Bee Strain, says the office has helped countless folks make that tough decision about going into business for themselves and also existing businesses stay abreast on small business trends. "Each month we offer Small Business Seminars that are directly related to owners of small businesses. Everything from financing to recordkeeping and taxes, plus marketing a small business. Many small business owners in our county take advantage of these throughout the year," Strain says.
Two of those folks are Jaime Coulter from Dragon Fly Wine Market and Joanne Fisher from the Rag Bag. Both say meeting with Bee Strain and then participating in the SBC seminars has been key to their success.
Jaime Coulter
"I know meeting with Bee saved us money because we would have made more costly errors on so many things. Taking the classes offered through the Small Business Center continue to help us along as we make our way through the ever important first year of the store. To date we have taken "Cash" – The Lifeline of Your Business; Recordkeeping and Taxes for Small Business; and Marketing for Small Business. I truly feels regardless of where you are in your small business there is a class at the Small Business Center that can benefit any entrepreneur. These classes are a great way to keep your company's core values and practices fresh! I know we intend to take full advantage of them as often as possible."
Joanne Fisher
"Take classes before you start planning. Learn all you can and take advantage of the resources at the Small Business Center. Be informed. It can save you a lot in time and money in the long run. There are also networking opportunities while taking the classes. The SBC has been such a valuable resource for us. The instructors are professional and knowledgeable in their field and happy to answer any questions. They allow us to pick their brains! I have been successful to put into practice many things I learned in the classes and we see sales increasing each year. We know it was time well invested."
The 2013 Entrepreneur Expo, sponsored by Cleveland Community College was held on Tuesday, April 30,  and was a hit with students, and the community alike. "It was a great opportunity for potential and current business owners to get ideas, information, and access to resources need to start or grow a business," says CCC instructor and event organizer, Steve Padgett. "The networking opportunities were endless. This event is certainly something we hope we can continue to offer our students and everyone in the community each year."
Former North Carolina Lt. Governor, Walter Dalton, served as keynote speaker, and a panel of local entrepreneurs answered questions about what it takes to be successful. Twenty service providers were on-hand to answer any questions participant might have had about how to get started as a business owner.