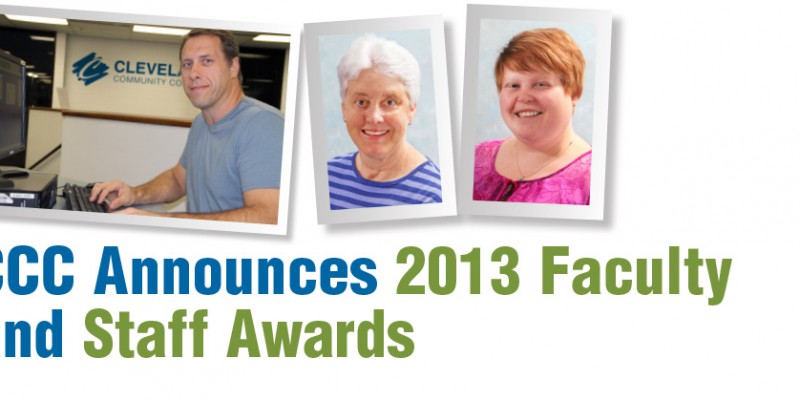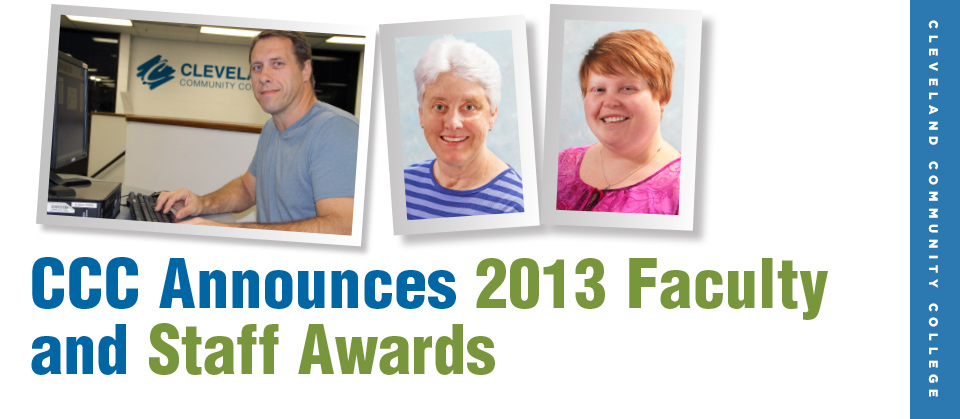 Sherry Hamrick, Discipline Coordinator of Practical Nursing, is the 2013 Cleveland Community College Excellence in Teaching Award Recipient. She has been teaching at CCC for 20 years and has served as instructor in the practical nursing program for 15 years.
Hamrick earned a Master of Science in Nursing from the University of North Carolina at Greensboro, a Bachelor of Science in Nursing from the University of North Carolina at Charlotte, and a Bachelor of Arts degree from Appalachian State University. Hamrick was also an Excellence in Teaching nominee in 1999. She says this award could not have been achieved without the inspiration she has received from her students and colleagues, for whom she has the deepest respect, and from whom she has derived the strength to challenge herself and perform better at each stage in her teaching career.  "I want to tell everyone that you should never, never give up even if you think you are convinced that it's over.  It's not over unless you want it to be."
"I'm so humbled and honored to have been nominated for Outstanding Staff Member at Cleveland Community College."
Hamrick recently retired after 28 years of service from the North Carolina Air National Guard.  She served three tours in the Middle East and served as a flight nurse, chief nurse executive, and commander of a medical squadron. She is an active member of St. Luke's Episcopal Church where she works with the acolytes.  She resides in Lincolnton.
Past Recipients of Excellence in Teaching Awards Winners
2012  Russ Hamilton
2011  Dr. Sandol Johnson
2010   Sheri Rogers
2009  Claman Parker
2008  Bruce Mack
2007  Dr. Barbara Taylor
2006  Michael Sisk
2005  Dori Gantt
2004  Kay Chitty
2003  Ray Fisher
2002  Dr. Becky Sain
2001  Bruner Remy
2000  Jana Bridges
1999  Steve Putnam
1998  Phil Reid
1997  Dr. B.J. Zamora
1996  Dr. Starr Camper
1995  Rosaline Hunt
1994  Jean Francis
1993  Linda Ross
1992  Dr. Barbara Taylor
1991  James Fite
Athena Smith, Instructional Technology Specialist, is the 2013 Outstanding Staff Member Award recipient. Smith is a native of Cleveland County and began her career at CCC in 2006 as an adjunct instructor and Help Desk technician in the Rose Library. In 2009, she began serving as Instructional Technologist and was promoted to Instructional Technology Specialist in 2012.
She is a 2006 graduate of the University of North Carolina at Charlotte where she received a Bachelor of Arts degree in Software and Information Systems. In addition, she will complete a Master's degree in Instructional Technology with a Certificate in Distance Learning Administration through East Carolina University in December 2013. "I'm so humbled and honored to have been nominated for Outstanding Staff Member at Cleveland Community College. I'm even more humbled and honored to have won! I am blessed with an amazing faculty and staff and coworkers that I am so proud of," she says. "Technology is one of my great loves and I appreciate the opportunity to spread a love for technology with all of the faculty and staff at CCC. It is an absolute honor and privilege to have been recognized for all of my efforts."
When she is not working, Smith enjoys photography, Carolina Panthers Football and hanging out with her black Chihuahua, Pixel.
Past Recipients of Outstanding Staff Member Award
2012 Jimmy Hensley
2011 Severne Budd
2010 Emily Sisk
2009 LeeAnn Lawson
2008 Susan Martin
2007 Andy Gardner
2006 Shaunda Leonhardt
2005 Lee Bryant
2004 Laura Bowen
2003 Chris Nanney
2013 CCC Academic Excellence Award Winner
Shane Chase of Kings Mountain is the 2013 Academic Excellence Award winner at Cleveland Community College. Chase is pursuing an Associate in Applied Science degree in Industrial Management Technology and holds a 4.0 grade point average. Chase says that with the support of his family and the faculty at CCC, he has been able to achieve his goals. He says he has also been fortunate to put into practice some of the skills he has acquired through CCC at work. "CCC has certainly been instrumental in helping me acquire the technical skill sets I needed to help me achieve my goals. I want to continue to use what I am learning in my every day work setting and make Cleveland Yutaka more successful," he adds.
Chase was awarded a medallion and certificate of achievement during the 2013 Spring Commencement at CCC. He and his wife, Rhonda, have three children and reside in Kings Mountain.
The North Carolina Community College's Academic Award winners are chosen from each of the 58 NC Community Colleges. The students are selected for their academic accomplishments and leadership ability. They also excel in the classroom and are dedicated to making a difference on their campuses and in their communities.