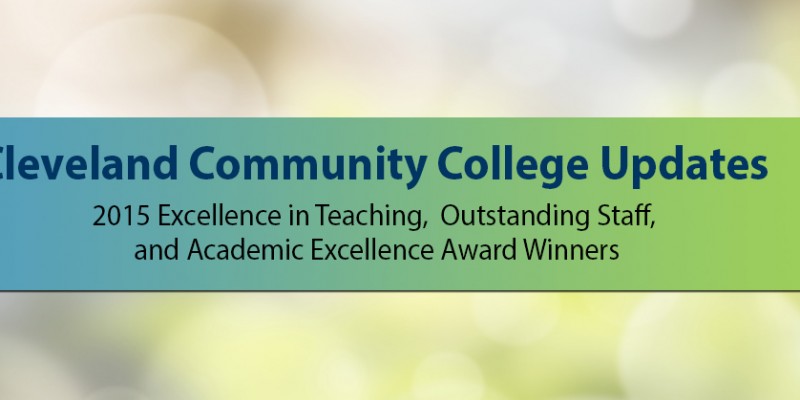 Excellence in Teaching Award
Allen 'Al' Dunkleman, Sociology Instructor and Discipline Coordinator, is the 2015 Excellence in Teaching Award recipient. He has been teaching sociology at the College for almost 13 years.
"What a tremendous honor," said Dunkleman. "Having the opportunity to teach here at CCC has been a dream come true and I thank God for the way He transformed a high school academic failure into a college level instructor."
Dunkleman earned his master's degree in sociology from East Carolina University, and his bachelor's degree, also in sociology, from the University of North Carolina – Wilmington. He also received an Associate in Arts degree from Virginia Highlands Community College in Abingdon, Virginia.
In his spare time, Dunkleman enjoys woodworking, writing songs and singing. Recently, he presented CCC with its own Alma Mater, which was performed live for the first time at the 2015 Commencement. He has been honored by Rotary International for writing "Rotary in Harmony," a song commemorating the one hundredth anniversary of Rotary International. Three times he has been awarded a Regional Artist Project Grant (2007, 2011 and 2015) by The Arts and Science Council for the creation of music CDs. He is currently working on his third CD.
Dunkleman and his wife of 36 years, Karen, live in Boiling Springs.
Past Recipients of the Excellence in Teaching Award
2014 Dr. Starr Camper
2013 Sherry Hamrick
2012 Russ Hamilton
2011 Dr. Sandol Johnson
2010 Sheri Rogers
2009 Claman Parker
2008 Bruce Mack
2007 Dr. Barbara Taylor
2006 Michael Sisk
2005 Dori Gantt
2004 Kay Chitty
2003 Ray Fisher
2002 Dr. Becky Sain
2001 Bruner Remy
2000 Jana Bridges
1999 Steve Putnam
1998 Phi Reid
1997 Dr. B.J. Zamora
1996 Dr. Starr Camper
1995 Rosaline Hunt
1994 Jean Francis
1993 Linda Ross
1992 Dr. Barbara Taylor
1991 James Fite
Outstanding Staff Member Award
Barbara Bass Romich, Dean of Arts and Sciences, is the 2015 Outstanding Staff Member Award Recipient.
"It was such an honor and surprise," said Romich about receiving this honor. "I began my teaching career in 1979 with the community college system and of all the places I have worked, Cleveland Community College has been my favorite. To be recognized and appreciated by my peers for a job I love makes working at CCC even more special."
Romich has been part of the Psychology Department faculty at CCC since 2001 and has served as the Dean of Arts and Sciences since 2008. She received her master's degree from Western Kentucky University and her bachelor's degree from East Carolina University.
When not at the College, Romich serves as a board member of CLECO, is a member of Shelby Presbyterian and has been a Girl Scout leader for 24 years.
Romich and her husband Gary live in Cherryville. They have three children, Randy, Stephanie and Noah.
Past Recipients of Outstanding Staff Member Award
2014 Barbara McKibbin
2013 Athena Smith
2012 Jimmy Hensley
2011 Severne Budd
2010 Emily Sisk
2009 LeeAnn Lawson
2008 Susan Martin
2007 Andy Gardner
2006 Shaunda Leonhardt
2005 Lee Bryant
2004 Laura Bowen
2003 Dr. Chris Nanney
Academic Excellence Award
Erin Pruitt of Lawndale is the 2015 Academic Excellence Award winner at Cleveland Community College. Pruitt graduated with an Associate of Applied Science in Radiography and a 3.85 grade point average.
In nominating Pruitt for the award, Alease Rousseau, discipline coordinator for the Radiography Program, wrote, "Erin is an outstanding student. She demonstrates genuine empathy and compassion toward her patients; she works well with others and is a team player or team leader as needed."
Pruitt, a single parent of two children, began her college career when her son was very young. When he was diagnosed with special needs, she decided to leave school. "I was working full time, and I felt I couldn't spend that much time away from him. Now that he is about to graduate from high school and is pretty self-sufficient, I decided it was my turn."
After graduation, Pruitt plans to seek full-time employment in a hospital or an outpatient clinic. In addition to her academic and family commitments, Pruitt is active in her church, and works as a Radiology Technologist Assistant at Carolinas HealthCare System Kings Mountain.
Each year, one student is chosen at each of the state's 58 community colleges to receive the prestigious Academic Excellence Award. The winners are selected for their academic accomplishments and leadership ability.