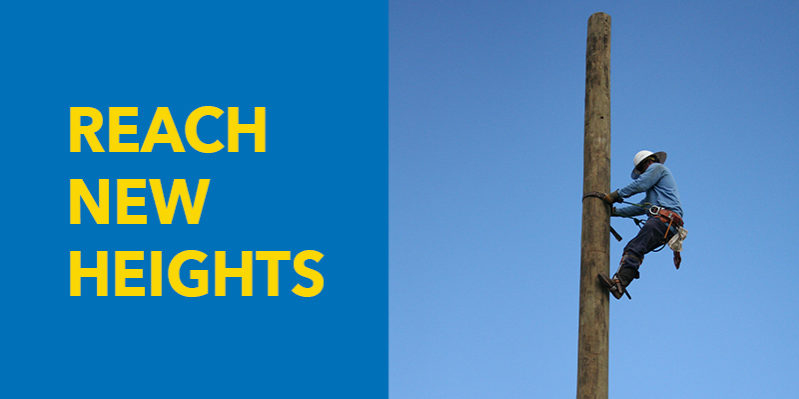 Even our simplest routines can be interrupted when our electricity goes out. Our lives are largely dependent on our electricity working every time we flip a switch or press a button.
When a powerline goes down due to weather, an accident, or a fallen tree, who are the people behind the scenes that we depend on to restore our lost power?
The unsung heroes we so highly depend on to keep our electric power grid operating are Electrical Lineworkers. Electrical Lineworkers are employed by public and private utility companies, electrical contractors, railroads, and telecommunications companies. These are the men and women that install, maintain, and repair the electrical power distribution and transmission systems that bring electricity into our homes and workplaces.
Locally, regionally, and nationally there is a shortage of electrical lineworkers. In North Carolina, there are currently over 1,000 open jobs for Electrical Lineworkers. The US Bureau of Labor Statistics projects the employment of electrical powerline installers and repairers to grow 11 percent from 2014 to 2024.
In our area, the demand for Electrical Lineworkers far exceeds the number of people entering this career.
Municipalities like Shelby and Kings Mountain maintain their own electric utility services and have the same long-term needs for trained and qualified electrical lineworkers that we are experiencing on a national level. To help increase the supply of qualified entry-level electrical lineworkers CCC is launching a new academy to prepare people for a career in the power utility industry.
The Cleveland Community College Electrical Lineworker Academy will prepare students with the knowledge, skills, and certifications that public and private utility companies, electrical contractors, and telecommunication companies require for entry-level jobs. Electrical lineworkers install, repair, and maintain electrical power distribution and transmission systems. Electrical line work is a rewarding career that requires highly-skilled employees who enjoy working outdoors, traveling, and working in a team environment where safety is first.
CCC collaborated closely with the City of Shelby, the City of Kings Mountain, Duke Energy, and local power utility contractors to develop a training program "designed by linemen, for linemen" that provides fast-track hands-on training that leads directly to employment as an entry-level lineworker. Course highlights include electrical power fundamentals, climbing wooden poles, setting and guying wooden poles, rigging, commercial driver's license, and a strong emphasis on worksite safety. The Academy includes classroom instruction but emphasizes hands-on training in the pole yard and learning to safely operate equipment such as bucket trucks, diggers, and hoists.
With an emphasis on teamwork and safety, experienced Class "A" Journeyman Linemen instructors will train and prepare students to repair, maintain, and install utility power lines. It takes five to seven years of on-the-job training to achieve Class "A" Journeyman Lineman credentials so those joining the industry now will be ready to take the reins in the future just as the need is greatest. Opportunity is not the only benefit. Regional starting pay ranges from $17 – $21 per hour with the potential to earn over $75,000 in five years.
Electrical Lineworker Career Path:
It varies with employer, but in general a lineworker is hired as a Class "D"/Level 4 Groundsman Apprentice and advances a level and pay grade every two years. It takes about eight years to achieve Class "A"/Level 4 Journeyman.
Career Profile: Jeffrey Freeman, Jr.
Electric Superintendent, City of Shelby
After graduating from Bessemer City High School, Jeff planned to attend college that fall. Like many his age, Jeff didn't have a clear idea of what he wanted to study. A friend helped him get a summer job as a groundsman with an electrical contractor and he liked the work. Jeff describes his experience as "very physical, keeps you outside a lot, and involves continuous on-the-job training. It was a good fit for me. I saw a lot of opportunity for future advancement and decided to try it for a while. Here I am 22 years later and, if I had to do it all over again, I would make the same decision."
Requirements:
Age 18 and older
Valid Driver's License
Drug Screen by first day of class
DOT Medical Exam for CDL Permit by first day of class
Motor Vehicle Record for CDL Permit by first day of class
Industry Partners
City of Kings Mountain
City of Shelby
Duke Energy
Utility Lines Construction
Williams Electric Company
Electrical Lineworker Academy Dates
2017 Summer Academy
2017 Fall Academy

September 18 – November 17

Class Times:

Monday – Thursday 8:00 AM to 4:30 PM
Friday 8:00 AM to noon
Academy Costs
Registration/Program Fees $300
Lineman Boots (est.) $180
CDL Class A Fees (est) $260
Approximate Cost $740
Certifications & Credentials
T&D PowerSkills Powerline Worker
Pole & Bucket Rescue Certification
CDL Class A, "O" Restriction License
OSHA Competent Person Certification
NC Workzone Flagger Certification
Incipient Fire Behavior Certification
Chainsaw Safety
OSHA 10-hour
Heartsaver® First Aid CPR AED
Working Smart Certification