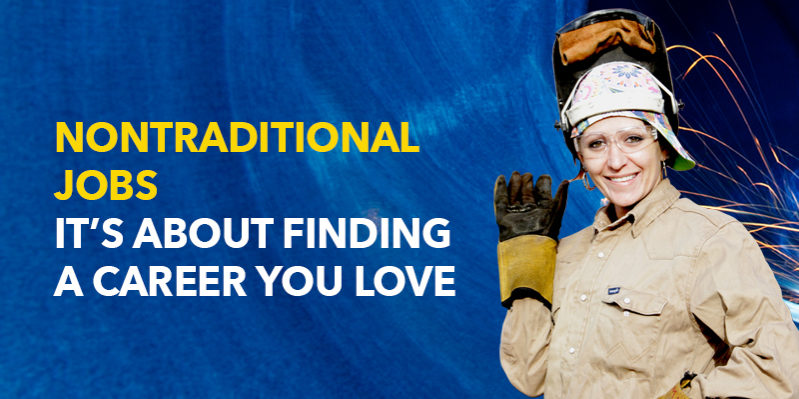 Have you ever thought about pursuing a particular career, but rejected it because it is considered a male-dominated or female-dominated occupation?
The U.S. Department of Labor defines traditional female-dominated occupations as those in which women represent 75 percent or more of the total employed. On the other hand, nontraditional occupations are those in which females represent 25 percent or less of the total number employed.
The idea of entering a career field where very few of your gender are represented can be daunting, but it should not keep you from exploring if it is something you really want to do. Plenty of students are doing just that.
For example, Sonya Ellis is a welding student at Cleveland Community College. She knows that welding is not a typical career choice for a woman, but she enjoys it. Ellis says that welding "is a way to express myself, and I'm hoping to give other females the encouragement to always seek anything they want to do." The fact that welding has traditionally been a male-dominated profession does not discourage her. "Just because men dominate the industry doesn't mean a woman can't do just as well, if not better."
Her instructors agree. These days they often have one or two females in a class, and believe it's a step in the right direction. Dana White, one of CCC's welding instructors and a talented welder himself, sees no reason that the women enrolled in this program should not succeed. "They can learn the skills as well as the guys, and when it comes to some of the finer, more detailed work, the women are often better at it."
Many of the jobs considered nontraditional for females are in vocational areas such as welding, construction, automotive repair, and machining. Other areas include firefighting, computer technology, and engineering.
Taylor Thrift did not let the categorization of firefighting keep her from pursuing her dream career. She is a graduate of CCC's Firefighter Academy and is working on an associate degree in Fire Protection Technology. In the meantime, she has already landed a full-time job with the Kings Mountain Fire Department. She says little girls come up to her in awe because they never knew girls could be firefighters. "I often hear, 'But isn't that a boy's job?' Being the one to show these children that they can be whatever they aspire to be, and to hear them tell me that they want to be like me when they grow up is awesome."
There are still fewer women than men working in jobs related to science, math, and technology but that seems to be gradually changing.
Kemp Davenport graduated from CCC with an Associate in Applied Science in Computer Technology Integration – Information Systems Security and a second degree in Networking Technology. Even though jobs related to working with computer systems are considered nontraditional for women, Davenport says they really shouldn't be. "There are a lot of men in this field, but there are a lot of women too," she says. "I feel some are afraid this career path is too masculine for them, but I can attest that is simply not true. Women can do this just as well as men."
She believes it is more important to be someone who is willing to work and enjoys learning because things are constantly changing in this field. "For women who enjoy learning new things all the time, this career might be the one for them. This occupation is in need of women."
Davenport goes on to say that her father was a great influence and has helped her become successful in information technology. "It has been a fun experience, and I love my job. My hope is to get more women into this field and show them that this is not a male-dominated career."
The focus tends to be on nontraditional jobs for women, but we don't want to leave out the men. For years, most careers in healthcare have been considered female-dominated but that is changing as well. More men are pursuing careers as nurses, nurse aides and technicians in various healthcare disciplines. One example is Avery Robinson, who recently graduated from CCC with an Associate in Applied Science degree in Radiography.
Robinson actually started his college career at a four-year university, majoring in engineering. He was doing well in his studies, but decided engineering wasn't what he wanted to do with his life. He heard about the Radiography program at CCC and went through the admissions process. As part of that process he participated in several "exposure days," visiting clinical sites to see first-hand what radiography technicians do. "About the third exposure day, I decided that I could see myself doing this," he says.
Once he began the program, Robinson decided he had made the right choice. One thing he didn't like about the university was the large classes. In this program, he was part of a small group and the fact that he was one of only two guys did not deter him. It didn't matter. "You get close to your group. We're like a family at this point,"
he says.
Even though many careers are still considered traditional or nontraditional, most students don't seem to spend much time thinking about that when deciding which career they want to pursue. As in the examples above, they are more focused on finding the right fit and encourage others to do the same. It's about finding the career that will allow you to grow, make a good life for yourself and find a job you enjoy. It's your choice and your education; do it your way.