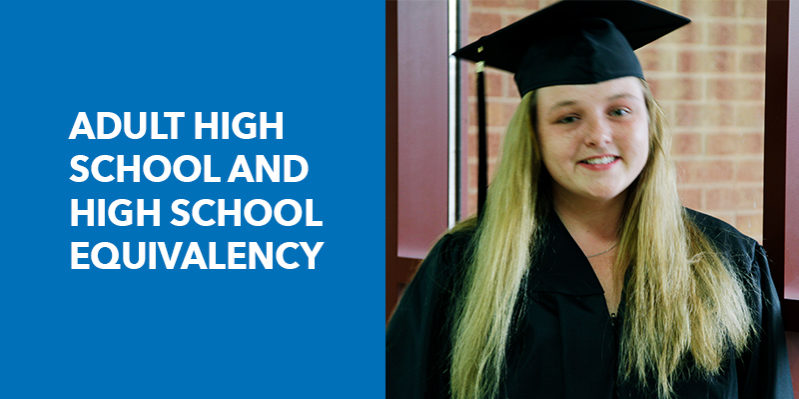 Sareena Durbin entered the Learning Center's program because, "I need a better job for my children."
She started in the Adult Basic Education Program because she tested at lower than a ninth-grade level in reading and language arts. That's not uncommon. More than 80 percent of students enrolled in The Learning Center programs place at this level.
"This young lady, a mother of two very young children, came to class regularly, put in additional hours, and placed out of my class," said Kim McDaniel, Durbin's Adult Basic Education instructor. "On days I was not teaching her, she attended the Learning Lab and was able to successfully complete all four GED tests."
The Learning Lab is a classroom that offers self-paced learning exercises and is available to students who are enrolled in Adult High School or are preparing for a high school equivalency exam.
Durbin improved her reading and language skills and was able to earn her GED in about two months. It takes most people longer than that but she says, "I wanted it, and she (McDaniel) helped me every step of the way. Having someone believe I could do it made a huge difference."
Her advice to others who have not earned their high school diploma or equivalency?
"If you want it, go get it. Don't get discouraged. If you put in the work it's possible."
Cleveland Community College offers a full range of free adult education services to help you improve your life and advance your career.
Earn your Adult High School or High School Equivalency Diploma
The Adult High School program is operated in conjunction with Cleveland County Schools. Students who complete the Adult High School program will receive a Cleveland Community College Adult High School Diploma.
A High School Equivalency (HSE) diploma is accepted by all public and most private colleges and universities, as well as most employers. Getting your HSE diploma involves taking a series of tests designed to measure the skills equal to those represented by a high school diploma. The tests measure writing, social studies, science, reading, and mathematics skills. CCC offers three HSE tests: the GED, the HiSET and the TASC. The GED is a computer-based exam, while the HiSET and the TASC tests are offered in pencil-and-paper versions.
Caring instructors to help you learn
Cleveland Community College carefully selects instructors for their ability to work with the adult learner. The curriculum ranges from basic-literacy level to twelfth-grade level instruction in reading, writing, social studies, science, and math.
Programs designed just for you
Everyone is different and has different skills and abilities. CCC instructors will assess your current educational level, then design a training program for you.
Our programs are free
No fees are charged for attending The Learning Center (ESL, HSE, ABE or AHS) courses. There are fees for taking one of the official High School Equivalency tests.
Registration is easy and quick
Classes are held continually throughout the year with registration during various months. Call 704-669-4050 for information on class locations, schedules, and registration information.
More than High School Equivalency
The Learning Center at Cleveland Community College also aids adults needing the following:
Adult Basic Education (ABE)
Adults who have not graduated from high school and high school graduates who need instruction below the ninth-grade level may enroll in Adult Basic Education. Instruction is provided in the areas of basic reading, English, math, spelling, and writing. ABE classes help to prepare adults who want to enter an Adult High School Diploma or High School Equivalency class. Students work at their own pace and receive individual help as needed. There is no registration fee and books are provided for student use in the classroom.Students may enroll at any time.
English as a Second Language (ESL)
Acquire and/or improve your reading, writing, and speaking skills if your primary language is not English, and your skills are below the level to function effectively in English. The program provides language learners with essential life skills that enable them to function in an English-speaking society. These classes are also helpful for students who plan on taking High School Equivalency or Adult High School Diploma classes or the United States citizenship exam. ESL courses are free and study materials are provided at no cost.
For more information on these programs, call 704-669-4050 or visit clevelandcc.edu/tlc.